All Cakes
ORDER FRESHLY BAKED CAKES IN GURGAON & ENJOY DOORSTEP DELIVERY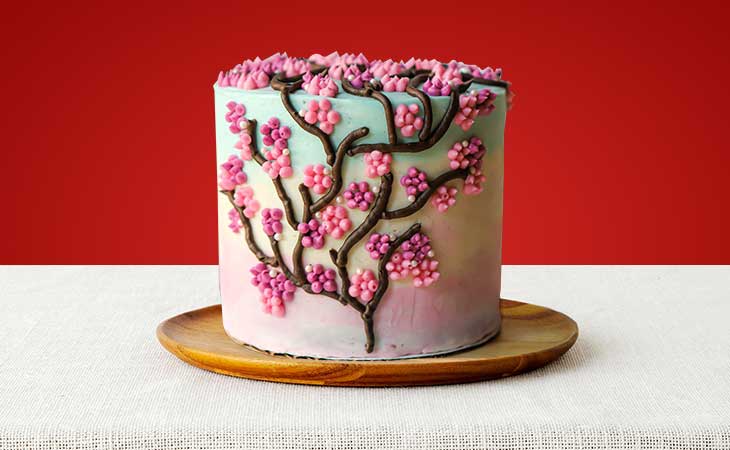 Gurgaon Bakers is a customer-favourite professional cake baker in Gurgaon. Our cakes are baked with love. Made with premium ingredients and fresh on order, our cakes are edible masterpieces that look good and taste heavenly. Our signature cakes are a great addition to your dessert table. We've got a vast collection of party cakes in Gurgaon: birthday cakes, kids' birthday cakes, wedding cakes, anniversary cakes, themed cupcakes, special occasion cakes, tea-time cakes, dessert jars, and much more.
For the most pretty and delicious cakes in Gurgaon, get in touch with our team of creative cake bakers and brilliant cake decorators. We'll craft the cake of your dreams! The cherry on top: we offer home delivery of all our cakes anywhere in Gurgaon. We guarantee same-day express delivery to all locations within Gurgaon city.
TASTY AND PRETTY – OUR CAKES ARE THE BEST IN GURGAON
At Gurgaon Bakers, we make our cakes with the highest quality ingredients and time-tested recipes. Our sponge is fluffy, moist, and has a rich crumbly texture. Made with real butter, the best flour, and premium ingredients, our cakes look equally good and tasty.
Our cakes are available in lots of different flavours. Choose from classic flavours like vanilla, chocolate, pineapple, or black forest. Or go for the latest trending flavours like red velvet, butterscotch, white forest, and more. And not to forget the most important part: our cakes are decorated by expert cake artisans and are topped with loads of different toppings like ganache drips, fondant figurines, chocolate shards, whipped cream, sprinkles, and more.
We can also top your cakes with gourmet treats like Ferrero Rocher, Nutella, KitKat, Oreo, Gems, cookies, nuts, fresh fruits, handmade sauces, fudge, and more. All our cakes are hand-made and made fresh on order. Since they are handmade they may be slight variations to the images displayed here, but we can guarantee that the final product will look similar to the pictures.
Remember, all our cakes are made fresh on order. So, when you order a cake online, you can rest assured that you get only the freshest and tastiest cakes in Gurgaon. Our cakes are available in several sizes ranging from ½ kg to 14 kg. Whether you're looking for a small cake to celebrate a romantic anniversary dinner or multi-tiered beauties for milestone birthdays, weddings, and other bigger celebrations, Gurgaon Bakers has got your back.
GET YOUR CAKE DELIVERED AT YOUR DOORSTEP IN GURGAON
We offer a hassle-free Gurgaon cake delivery service to ensure that your customised cake arrives in perfect condition, ready for your party. We offer delivery across Gurgaon and charge a nominal fee based on the distance from our kitchen.
If you're looking for last-minute cakes in Gurgaon, don't panic! We've got you covered! We offer same-day delivery guarantee on all our standard cakes. Orders placed by 9 PM are eligible for same-day delivery. You can also place a last-minute cake order in Gurgaon, by giving us a ring at +91 98999 88185.
Our delivery agents zip your cakes fresh from our kitchen to your home, within a few hours. While our standard cakes are available for same-day delivery, if you require a special customised cake design, then we recommend that you connect with our team and place orders in advance.
ORDER THE BEST CUSTOMISED CAKES IN GURGAON FOR ALL OCCASIONS
Choosing the perfect cake for your upcoming celebration can be difficult, especially when there are dozens and dozens of choices. At Gurgaon Bakers, we make your task simple, by dividing our cakes into different categories.
Whether you're looking for a first birthday cake or a golden jubilee celebration cake, we've got a wide range of choices to help you choose from. Browse throughout different cake categories: birthday cakes, anniversary cakes, designer cakes, celebration cakes, photo cakes, by flavours, other desserts, and more.
Our cake bakers love a creative challenge and if you have a specific design in mind or looking for a customised cake not on our list, get in touch with our team at +91 98999 88185 and we'll bake the perfect cake for you, just according to your requirements.
FREQUENTLY ASKED QUESTIONS
Do you offer contactless cake delivery in Gurgaon?
Yes, our store is open for business and we deliver seven days a week. We've introduced contactless delivery due to the Covid-19 pandemic. You can place your orders online and our delivery agents will place the cake at your doorstep and stand away at a safe distance, till you pick the order. We've also introduced extensive sanitisation and cleaning procedures to give our customers and our team, the maximum protection.
What cake flavours do you do?
We offer the following flavours: • Vanilla • Chocolate • Strawberry • Butterscotch • Red Velvet • Black Forest • White Forest • Pineapple *Note that all these cake flavours can be made egg/eggless as per your dietary requirements.
I have a specific flavour that is not on your list? Will you be able to create my flavour choice?
Yes. We aim to satisfy every customer's needs. If you have a specific flavour in mind that is not listed on our site, get in touch with our team at +91 98999 88185 and we would be happy to discuss your needs.
How long do your cakes stay fresh?
Our buttercream cakes and ganache cakes can stay fresh for around 3 days. Cakes containing fresh fruit slices and made with fresh cream need to be refrigerated and consumed within 2 days for the best flavour.
Where do you deliver in Gurgaon?
You can check our delivery locations while checking out. We offer cake deliveries at convenient timeslots staring from 9 AM to Midnight. We deliver 7 days of the week, including weekends and Sundays. However, we cannot deliver outside Gurgaon. If your locality is not listed in the delivery page, get in touch with our team at +91 98999 88185 to see if we can arrange any alternatives.
What are the accepted payment methods?
Gurgaon Bakers offers convenient and hassle-free checkout options. You can choose from internet banking, debit/credit cards and Paytm wallet.
I placed a cake order online. But, I haven't received any confirmation email. What should I do?
Check your spam/junk mail folder to see if our confirmation email has been mistaken as spam. Alternatively, you can give us a ring at or send an email to hello@gurgaonbakers.com telling us what you have ordered and when you have ordered. Our team will get back to you at the earliest and help you track your order.
Do you offer allergy-free cakes in Gurgaon?
At Gurgoan Bakers, it's our endeavour to ensure that everyone enjoys our cakes irrespective of their dietary restrictions. Check our healthy cakes page for cakes made without gluten, dairy, sugar and nuts. If you have a specific dietary restriction, let us know by sending in an email to hello@gurgaonbakers.com and we'll see if we can accommodate your requests.
How do I store the cake after receiving it?
Your cake will be delivered to you in a sturdy, lidded cardboard box. Make sure to store it in a cool, dry place out of direct sunlight until you cut it. Fresh cream cakes should be refrigerated until cutting. Once cut, transfer the remaining cake into a clean, air-tight box and store it in the refrigerator (for fresh cream cakes) or in a cool, dry place.
Can you do bespoke and customised cakes in Gurgaon?
Yes, of course. We have an incredibly talented team of expert cake bakers and decorators. We love creative challenges. Send us an email to hello@gurgaonbakers.com and we'll help you with your customised cake order in Gurgaon.