Cakes for special occasion
Creative Celebration Cake Delivery in Gurgaon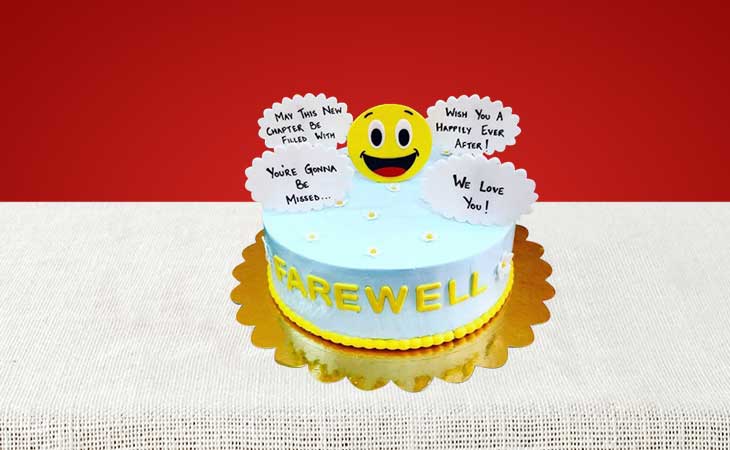 It's not a celebration if there's no cake, right? Gurgaon Bakers offers an exquisite range of bespoke cakes for all types of celebrations and special occasions like birthdays, anniversaries, Mother's Day, Father's Day, Women's Day, Friendship Day, Valentine's Day, Diwali, Christmas, New Year, Independence Day, Graduation Day, Baby Showers, Bridal Showers, and much more.
Our special occasion cakes are themed to match the mood of each celebration. Sure to add the "wow" factor to your event, our cakes not only look dazzling but also taste incredibly delicious. Order from our range of celebration cakes and enjoy doorstep delivery anywhere in Gurgaon.
Bespoke Handmade Special Occasion Cakes in Gurgaon
Your celebrations won't be complete without one of our attention-grabbing special occasion cakes.
Our celebration cakes are handmade fresh in Gurgaon, using premium ingredients. We use the best and natural ingredients. Hence our cakes look not only impressive but also taste delicious. Our celebration cakes are the perfect centrepiece for your special event. Whether you're looking for a pretty baby shower cake to welcome your little prince/princess or a sweet cake to show your love and gratitude to Ma on Mother's Day – we've got the best celebration cakes in Gurgaon.
We believe that each one of life's milestones – big or small – should be celebrated and cherished in the best possible way. Our celebration cakes are designed to create long-lasting memories of special occasions. You can opt for a customised cake topper for your celebration cake or finish it off with some lovely candles.
Whether you're looking for impressive drip cakes, a chocolate overload cake, photo cakes, themed fondant cakes, or classy semi-naked cakes – we've got a wide array of special occasion cakes to choose from. You can personalise your special occasion cake with a lovely hand-piped message.
Whether you're looking for a large multiple tier cake for a big gathering or a small cake for an intimate party – we've got the best special occasion cakes in Gurgaon. Order yours now and enjoy doorstep delivery.
Special Occasion Cakes for all Celebrations and Parties in Gurgaon
Every Special Occasion – Big or Small – Deserves to be celebrated!
And, what's better than marking your special occasion with a creative and unique celebration cake? Whether you've got a milestone birthday coming up, a wedding anniversary, an engagement, welcoming a new baby, or other special events like Mother's Day, Father's Day, Independence Day, Diwali, Christmas, New Year Party, Graduation, Corporate gala, Valentine's Day or whatever the happy occasion – we can create customised cakes to make your special event even more delightful!
Browse through our gallery of special occasion cakes and choose whichever strikes your fancy. Need a bespoke design not listed here? Just give us a ring or get in touch with our team to commission a customised design just for you.
Luxury Special Occasion Cakes in Gurgaon
No party is complete without a showstopper celebration cake from the best bakery in Gurgaon. Each of our celebration cakes is made with our customers in mind. Right from choosing the ingredients to adding the final touches, our team of bakers ensures that it's perfect every step of the way. We use the finest local and imported ingredients to create the perfect culinary treat for your taste-buds. Whether you want to replicate one of our bespoke designs or have a tailor-made design in mind, we can make the ideal cake to mark your special event.
Doorstep Delivery of Party Cakes across all Pincodes in Gurgaon
We are happy to announce that we offer home delivery for all cakes. Our cakes are packaged in sturdy cardboard boxes and delivered by hand by our team of delivery personnel at your doorstep. We also guarantee same-day delivery for cakes ordered before the last delivery slot of the day. If you miss our last delivery slot, we can ensure that we'll deliver it early the next day. Alternatively, you can also arrange a midnight home delivery of party cakes to surprise your loved ones with the sweetest surprise!
Please note that our cakes, toppers, and other edible decorations are hand-made by our professional bakers' team. Hence, there may be minor variations in the final appearance of the cake. Remember that if you order a different sized cake than the one in the picture, it may look slightly different due to the changes in proportions. However, we'll try our best to replicate your cakes as close to the designs pictured here.
Special Occasion Cakes in Gurgaon – FAQs
Help! I need a last-minute cake. Can Gurgaon Bakers help?
Yes! We offer same-day delivery of special occasion cakes. Just select your preferred design, choose your customisations, and complete your order. We'll try our best to get it delivered on the same day. Generally, we require 2 to 3 hours for delivery once you place the order.
Do you deliver party cakes in Gurgaon?
Yes! We offer home delivery for our special occasions' cake range, in and around Gurgaon. Our cakes are delivered in sturdy cardboard boxes to ensure that there is no damage during transportation. So, you can be assured that your cake will reach you in perfect condition.
I would like to order different flavours for each tier of my cake. Will that be possible?
Yes, of course. More and more customers are opting for different flavours for each tier of the cake. We believe the more flavours, the more, the merrier, and your guests can have multiple options to choose from. So, go ahead and choose different flavours for each tier.
I came across a pretty cool cake design online. Can you create a similar one for me?
Yes, definitely! Our bakers love an excellent cake design challenge. Just send us the image, and we'll get back to you, stating if that specific design can be recreated.
I have guests who cannot eat gluten or sugar. Can you create a gluten-free and sugar-free special occasion cake in Gurgaon?
Yes. We offer gluten-free and sugar-free cakes for clients with dietary requirements. Check the 'Healthy Desserts' tab to see the flavours available. Get in touch with us, and we'll be happy to discuss any specific dietary needs you or your guests may have.