Fondant Cakes
Add a WoW Factor to your Celebration with the Best Handmade 100% Fresh Fondant Cakes in Gurgaon.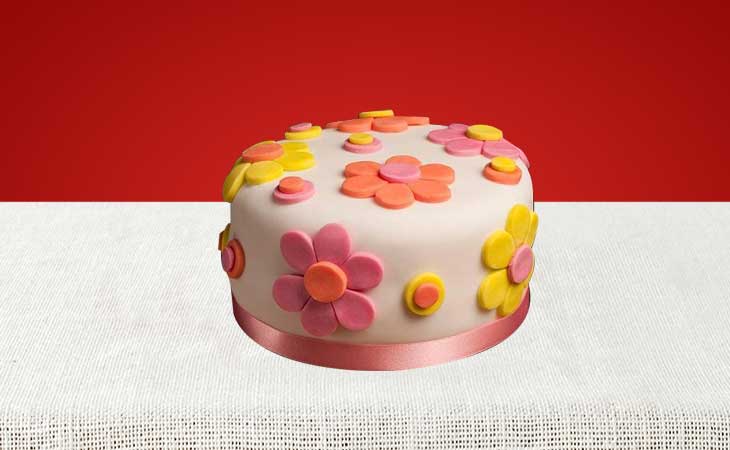 The Best Themed Fondant Cakes – Hand-crafted and 100% Fresh
Let your imagination run wild with our range of unique themed fondant cakes in Gurgaon.
Mermaids, unicorns, rainbows, pink flamingos, elephants, baby bears, cute bunnies, cheeky monkeys, pretty princesses, superheroes, cartoon characters, dream vacations, favourite foods – whatever be your wish, we can bring it to your party with our exquisite themed fondant cakes in Gurgaon.
A Fondant Cake for Every Theme Imaginable
At Gurgaon Bakers, our team of talented bakers loves a creative challenge. This is why we have a vast array of fondant themed cakes for all occasions. We've made space cakes, underwater cakes, makeup cakes for teens, vacation cakes for retirees, graduation cakes for college-goers, lazy man cakes for husbands, animal cakes for toddlers, cartoon cakes for kids, and much more.
Whatever be your theme, you can be sure that Gurgaon Bakers can replicate it in cake form. Our fondant cakes are handcrafted by our team of expert cake decorators. Picture-perfect, we're confident that everyone at your party can't stop talking about it.
Add a touch of Magic to your Celebrations with the Best Fondant Cakes in Gurgaon
Make your guests go wow with a spectacular fondant cake!
Do you know why our fondant cakes are the No #1 in Gurgaon? The answer lies in the details. Right from deciding the cake's style and structure, to meticulously rolling out the fondant and draping the cake, to adding the myriad tiny details that make the cake stand out, we pay extreme attention to each step.
Whether you're looking for a bright and colourful cake for your child's birthday party, or a subtle but elegant cake for a wedding anniversary, a point-on corporate themed cake, our bakers and cake decorators can handle it all!
Browse our gallery to check out some of the pretty fondant cakes we've done in the past.
Trending Fondant Cakes – We don't just follow trends, but we set them
The cake industry in India has come a long, long way in the last few years. Today, the market is flooded with hundreds of cake bakers and thousands of new cake trends. At Gurgaon Bakers, our cake bakers and decorators attend multiple workshops in a year to stay on top of international baking trends.
This gives us an edge when it comes to executing the latest fondant cake trends. Some of our popular trending fondant cake designs include:
#MoneyCakes – What's better than a regular cake? A cake with money in it. This is a great idea to gift a loved one. The recipient pulls up the name tag on the cake to discover wads of rolled hot cash.
#GenderRevealCakes – Let your friends and family know the gender of your newborn with a sweet and tasty gender reveal cake.
#EmojiCakes – Send someone a bit of love and deliciousness with our emoji cakes. We've got #smileyface, #hearteyes, #winks, and more.
#LazyHusband Cakes – Does your husband do nothing on the weekends but #Netflixandchill? Well, then this cake is perfect for him. It shows a lazy husband lying on the couch with the TV running on, his mobile, and a bucket of popcorn.
#Makeup Cakes – Do you have a stylish diva in your life who adores makeup? Then, our makeup cakes are the perfect choice for her. Decorated with makeup items handmade in fondant, we're sure this cake will keep her clicking selfies.
That isn't all. We've got dozens and dozens more novelty fondant cakes for all themes and occasions.
Fondant Cake Delivery in Gurgaon
Since our fondant cakes are handmade and contain numerous toppers, we personally deliver your order right to your doorstep. Yes, you don't have to step out of your home. Our cakes will be delivered by trained delivery agents anywhere in Gurgaon. Just let us know the recipient's address while placing the order, and we'll handle the rest.
Customised Fondant Cakes in Gurgaon
Want us to replicate a cake design that you have in mind? Sure, we can get it done for you. Make sure to get in touch with our team at +91 98999 88185, and we'll personalise the cake as per your requirements. Have specific dietary requirements or need flavours not mentioned on our ordering page? Just get in touch with our team to discuss your needs, and we'll see if we can get it done.
Fondant Cakes FAQs
How to place an order for a fondant cake in Gurgaon?
Gurgaon Bakers removes the hassle of ordering cakes online in Gurgaon. We offer themed fondant cakes for a variety of occasions. Just browse through our gallery, select your preferred cake, customise the size, flavour, choose egg/eggless, and include a special message for the recipient. Complete your order online and relax. We'll deliver the cake right to your doorstep. That's it. Ordering a fondant cake in Gurgaon is easier than ever before.
Do you offer fondant cake delivery in Gurgaon?
Yes, all our fondant cakes are delivered right to your doorstep anywhere in Gurgaon. Our delivery agents use special sturdy cardboard boxes to transfer your cake safely.
What are the delivery charges for fondant cakes in Gurgaon?
Our delivery charges are reasonable and based on the distance. Mention the address of delivery while checking out to get the accurate cost of delivery.
Is fondant safe to eat?
Yes. Fondant is 100% safe to eat and made with 100% edible ingredients. It's just like another type of frosting, with a different texture and taste.
What is fondant made of?
Fondant is made of corn syrup, sugar, water, and additives like glycerine and gelatin to retain the shape.
Why should I order fondant cakes in Gurgaon?
It all depends on individual preferences. If you like the taste of whipped cream or buttercream frosting, then you can go for it. However, if you're looking for a stunning themed cake with minute details, then fondant is the best way to get the coveted picture-perfect finish.
How should I store the fondant cake before cutting it?
Fondant cakes are prone to sweating, especially if the weather is hot and humid. So, if you're cutting the cake late, we highly recommend that you store the cake in an air-conditioned room until it's time to cut.
My fondant cake has started to sweat. How do I fix it?
Here are a few ways to remove the condensation: • Use paper towels and carefully blot out the excess moisture. Be gentle so that the action doesn't tear or crack the fondant. • Place the cake in front of an air-conditioner or fan to dry out the excess moisture. • You can pop the cake for a few minutes in the refrigerator to stop the sweating and slowly bring it back to room temperature just before cutting.