Cakes by Flavour
18+ Signature Party Cake Flavours in Gurgaon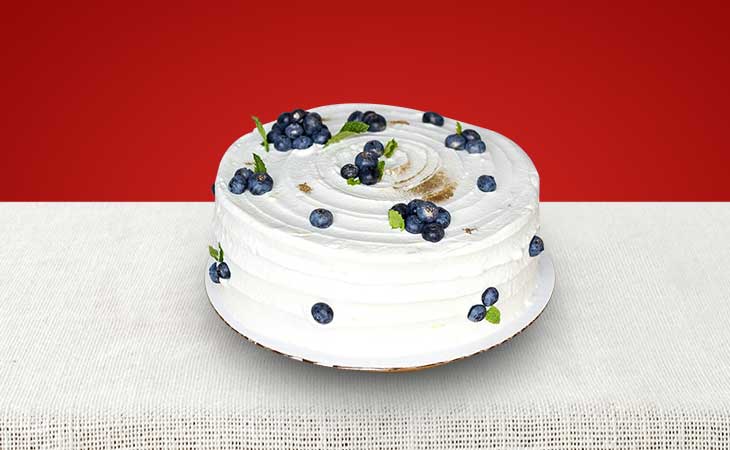 Fancy a decadent chocolate overload cake or a delicious truffle cake? Or perhaps you prefer something lighter like our signature vanilla or our classic black forest cake? Or something exotic like our Tiramisu cake or our blueberry cake? If you're a fruity person, then there's always our classic mango, strawberry or pineapple cakes to bring you the tastes of summer in a plate. Or do you prefer contemporary flavours like red velvet cakes, white forest cakes, and Oreo cakes?
With so many choices, which flavour will you choose? At Gurgaon Bakers, we have a wide range of over eighteen flavours for you to choose from. Order a different flavour for every occasion and create new memories.
The Widest Collection of Party Cake Flavours in Gurgaon
At Gurgaon Bakers, we believe that there is nothing like having too many choices. Our team of professional bakers have curated a list of 18+ signature premium party cake flavours. Order a different cake flavour combination for every occasion and delight your taste buds.
Our popular cake flavours include:
Besides these flavours, we also introduce seasonal flavours from time to time. Don't forget to check out our healthy cakes, if you have dietary restrictions. At Gurgaon Bakers, we use only the best of ingredients for all our cakes. Our ingredients are sourced from trusted brands in India and overseas, to ensure that your cakes are of the finest quality.
Made from scratch on order, our cakes are made with tons of love and delivered personally to your doorstep, anywhere in Gurgaon. We offer same-day delivery services for customers who place orders before the last delivery slot of the day. We also offer midnight surprise cake deliveries anywhere in Gurgaon. Order your cakes online or call us today to place your party cake orders.
Delicious Chocolate Cakes in Gurgaon
Everyone loves chocolate – it's no wonder that it's a crowd pleaser. Whether you're ordering cakes for your little one's birthday or a romantic anniversary celebration, chocolate cakes are the favourite choices of all. Mouth-watering, decadent, indulgent and luxurious – chocolate cakes from Gurgaon Bakers can satisfy your sweet cravings.
Browse through our collection of divine and sinfully rich chocolate cakes, and order the best chocolate cakes for your party. Our chocolate cake range includes unique flavours like our tempting chocolate hazelnut cake – made with a rich chocolate sponge and topped with a rich hazelnut filling and our chocolate mocha cake that temptingly blends the rich flavour of chocolate with the bitter undertones of coffee.
Whether you prefer dark chocolate, milk chocolate or coffee + chocolate, we're sure that you can find the perfect chocolate cake in Gurgaon that suits your palate. So, go ahead and order the best chocolate cakes and enjoy a delectable party dessert!
Signature Vanilla Cakes in Gurgaon
Our vanilla cakes are nothing but ordinary. Made with premium Madagascan vanilla, these cakes are sure to melt in your mouth. Sweet, delicious and tasty – our vanilla cakes are available in both egg and eggless variants. Here are some of our best-selling vanilla cakes for birthdays in Gurgaon – Loaded with colourful party sprinkles, the Majestic Vanilla cake is like biting into a fluffy cloud of deliciousness.
Go for the Snow White Cake, if you're looking for something that is simple but delicious. Our semi-naked vanilla 2-tier cake is perfect for those occasions when you want a grand cake to wow and impress your guests. We also offer customised vanilla party cakes in Gurgaon. Just get in touch with our team and we'll get it done for you.
Sweet Strawberry Cakes in Gurgaon for all Occasions
Strawberries are an all-time favourite flavour. They are popular among people of all ages. Exotic, sweet, slightly tart and pretty in pink – our strawberry cakes are perfect for all occasions. We're sure that our strawberry cakes are not only a treat for your eyes but are guaranteed to tantalise your taste buds.
Whether you're looking for a pink strawberry cake for girls' birthdays or a romantic strawberry duet for your loved one, Gurgaon Bakers has an exciting range of mouth-watering strawberry party cakes to choose from.
Romantic Red Velvet Cakes in Gurgaon
Our customers' all-time favourite. Our red velvet cakes are made with a rich chocolate sponge coloured signature red and topped with cream cheese frosting. This decadent cake is sure to make you wanting more.
Just like all our other cakes, our red velvet cakes are freshly baked on order from scratch using premium ingredients. We pride ourselves in using only the finest ingredients to achieve authentic tastes. Order the best red velvet cakes in Gurgaon and enjoy doorstep delivery anywhere in Gurgaon.
FAQs on Cake Flavours
Do you use synthetic flavours or natural flavourings?
It depends on the cake style you order. If you order a classic fruit cake like our mango or pineapple cake in summer, you can be assured of fresh flavouring made with fruit puree. However, if the fruits are not available in season, we use in-house made jams and preserves to get the flavours.
Can I order a flavour that is not on the list?
Yes, you can. But, the order is subject to availability. Ring us to see if we can bake a cake in your desired flavour.
I have a suggestion for a cake flavour to add to your list. What should I do?
We are always looking for innovative and new recipes to add to our list. We would love to have your suggestions. Just drop in an email to us at hello@gurgaonbakers.com or give us a ring on +91 98999 88185.
How do I order a cake in Gurgaon?
We make it hassle-free to order a customised and personalised cake. You can use our website to select your preferred cake. Fill out the order details – size, flavouring, message to be written on the cake, and complete the order online. We then deliver your cake personally right at your doorstep anywhere in Gurgaon.
Where should I keep my cake till it's ready for serving?
Your cake will be delivered to you in a packed cardboard box. Keep it refrigerated until the time of serving. We recommend taking the cake out of the fridge 15 – 20 minutes before cutting. Once you have cut, serve the cake to your guests and store any remaining slices in an air-proof container to keep it moist.