Chocolate Cakes
Say It with the Tastiest Chocolate Cake in Gurgaon
You had me at chocolate! Premium Chocolate Cake for Life's Special Moments!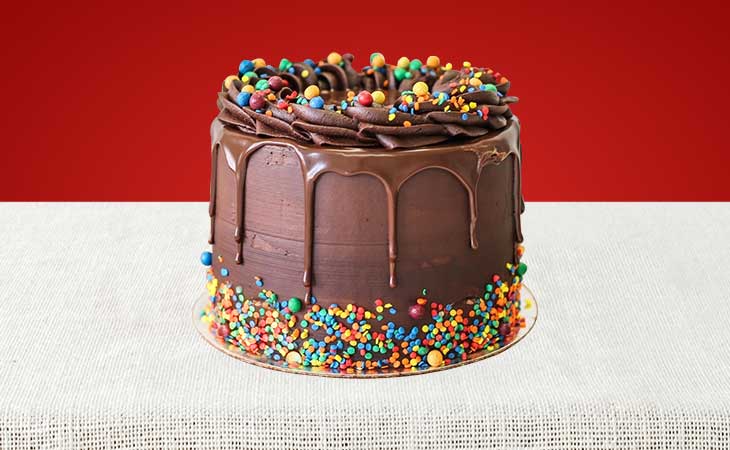 Chocolate the miracle food that makes everything just right!! Is there any food that is universally loved like chocolate?
It can be decadently dark, deliciously sweet, or playfully white. Chocolate is the most romanticised of all foods. It's the best way to express your love, a token of friendship, a warm hug to lonely hearts, or even the best way to say sorry. There's nothing that a decadent slice of chocolate cake can't set right.
Indulge in our range of premium chocolate birthday cakes from Gurgaon Bakers. Perfect for birthdays, anniversaries, baby showers, bridal showers, engagement, weddings, office parties, and more. Order now to send our chocolate cake as a gift to a friend or loved one, or just because you're craving something chocolatey  Remember, we offer doorstep delivery anywhere in Gurgaon. So, order today and indulge in some delicious chocolate self-care.
Wide Selection of Chocolate Cake Designs in Gurgaon
With a spoonful of chocolatey goodness in every bite, our premium chocolate truffle cakes are perfect for all special occasions.
At Gurgaon Bakers, we have the widest range of chocolate cakes in Gurgaon. Our creamy and delicious chocolate cakes are perfect for all occasions. Indulgent, creamy, and sinfully delicious our chocolate cakes are sure to give you a taste of luxury on your special day.
Whether you're looking for a simple single tier cake for a quiet and intimate celebration at home or looking for a magnificent 3-tier chocolate cake for a large gathering, Gurgaon Bakers has it all. Browse our gallery for the best chocolate cakes in town and order your favourite ones.
Order our choco fudge fantasy cake, choco-chip cake, chocolate overload cake if you're a serious chocoholic. Go for our chocolate mocha cake, coffee cake if you're a coffee lover. Decorated with yummy chocolate chips, chunks of chocolate, chocolate shavings, rich dark chocolate ganache, and more – our chocolate cakes are the ultimate treat for any chocoholic. From rich chocolate truffle cake to subtle semi-naked chocolate cakes, we're sure that our unique and exciting chocolate cake designs will leave your guests smiling with tasty memories.
Guaranteed to delight your taste buds, we can bet our cakes will keep you and your guests craving for more.
Personalised Chocolate Cake for Birthdays in Gurgaon
Looking for a special personalised chocolate cake to celebrate a loved one's birthday? Gurgaon Bakers is here to your rescue. We understand the importance of adding an element of personalisation to a birthday cake. While it may be easy to pick a regular ready-made cake off the shelf, it doesn't feel special. It feels like an afterthought.
This is why, at Gurgaon Bakers, we offer free personalisation for all our chocolate cake designs. You can customise the cake with a special message for your loved one. Our team of talented cake decorators will ensure that your cake is customised and your special message is frosted with hand-written icing on it for the special touch.
We also offer additional add-ons like a candle, balloons, bouquet of fresh roses, and more to make your chocolate birthday cake gift stand out even more! You can easily include these add-ons while placing your chocolate cake orders online.
Order Chocolate Cake for Same-day Delivery Anywhere in Gurgaon
At Gurgaon Bakers, we bake our chocolate cakes fresh on order with premium ingredients. Whether you're looking for last-minute chocolate birthday cakes or need a chocolate cake that can be delivered right at midnight, we've got your back! All our chocolate cake designs can be sent anywhere in Gurgaon at a nominal charge.
Your cake will be packed in sturdy cardboard box and hand-delivered by professional delivery agents right at your doorstep. If you need any help in placing a cake order on our site or need guidance on customisations, feel free to get in touch with our team and we'll be delighted to help you out.
Cake deliveries are available seven days of the week and on holidays too. We offer deliveries to any address: home, office, a party hall, a restaurant, etc.
Chocolate Cake FAQs
Where do you deliver chocolate cakes in Gurgaon? What is the cost of delivery?
Our delivery area includes the whole of Gurgaon city. For specific locations, you can check your pincode while placing the order. If your delivery area is not listed, get in touch with our team to see if we can schedule a special delivery. Our delivery charges are nominal and are based on the distance. The delivery costs will be included in your final cost.
What is the cost of a chocolate cake in Gurgaon?
We offer a wide range of chocolate cake designs to suit all budgets and needs. Our chocolate cake prices start from just Rs. 629.
Can you arrange fresh flowers along with my chocolate cake?
Yes. We offer add-ons along with our cake. You can include any special add-on along with your cake while placing the order. Currently, we offer flower bouquets, party popper, chocolates and fluffy teddy bear as add-ons for our chocolate birthday cake designs.
Do you make sugar-free chocolate cakes in Gurgaon?
Yes. We would love to accommodate your dietary needs. Just let our team know while placing the order to discuss your dietary restrictions.
Do you make individual chocolate cupcakes?
Yes. We also offer chocolate cupcakes in Gurgaon. The minimum order is a batch of six. You can place your cupcake orders here on our website itself or get in touch with our team at +91 98999 88185.