Cakes For Kids
Order the BESTEST and Most Creative Kids Birthday Cake in Gurgaon
Throw your little prince or princess, the best birthday party ever!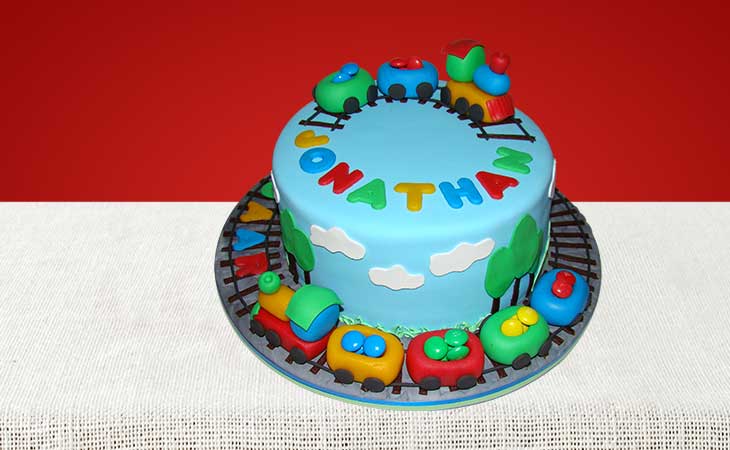 This year, surprise them with a creative and unique kid's birthday cake from Gurgaon Bakers and make their special day an unforgettable one.
Kids are the most excited when it comes to birthdays. They eagerly await their birthday for months on end. They can't stop talking about their party – inviting their friends and celebrating with a huge cake. One of the sweetest memories of childhood is hearing all your friends and family members singing "happy birthday," while you blow out the cake, making a sweet wish.
This year, make sure that you throw your little one an awesome-atic birthday party – one that they'll remember for years to come.
At Gurgaon Bakers, we have an exciting range of cake designs for kids – cartoon-themed cakes, Disney cakes, candy loaded cakes, unicorn cakes, princess cakes, minion cakes, cars cakes, superhero cakes, fireman cakes, transport cakes, and much more. Choose from our range of kids birthday cakes – and watch their faces light up with tons of joy, as they cut their special cake.
Let them bask in the glow of their special day with the tastiest kids' birthday cakes in Gurgaon. Made with premium ingredients, our cakes not only look good but also are good for little tummies. With our endless choices of kids cake, we're sure you'll find it challenging to pick just one!
Widest Collection of Kids Birthday Cakes in Gurgaon
It's time to bring out the best kids birthday cakes in the city! We've got a huge collection of birthday cakes for little boys and girls. From fluffiest fresh cream cakes to old fashioned sheet cakes, stylish themed cakes to gigantic 3-tiered cakes: we've got it all.
Browse through our gallery of cake designs for kids to choose your preferred cake style for your little one. Our best-selling kids cake designs include:
And much more. Just click on your child's favourite character themed cake, place your orders online and enjoy doorstep delivery, anywhere across Gurgaon.
Exciting Kids Birthday Cake Designs
Our kids' birthday cake designs never fail to impress!
Allow Gurgaon Bakers to pamper your little princess or prince on their special day with our creative range of kid's birthday cakes. Bespoke, handcrafted, and customised our kids' birthday cakes are a delight to behold and eat! You can customise the cake to suit your child's taste preferences. Opt from our delectable range of birthday cake flavours and customise the design to suit the theme of your child's birthday party.
Animals, superheroes, cartoons, book characters…anything that your little one's heart desires, we can craft it out of cake. Call us the Willy Wonka of the cake world!
High Quality Kids Birthday Cakes in Gurgaon
One of the biggest concerns for any parent organising a child's birthday party is the quality of the food. With Gurgaon Bakers, you can be assured that you're getting nothing but the very best. We use high-quality cake ingredients: flour, organic sugar, butter, and more. No added preservatives or additives. We try to incorporate real dairy products and fresh fruits in our cakes wherever possible. Also, our icing is made with fresh cream or Swiss Meringue. So, it's got less sugar than regular cakes you pick off a bakery shelf.
Kids Birthday Cakes Delivered Anywhere in Gurgaon on the Same-day
Hello parents! We've got your back! Have you been so busy that you've forgotten your little one's birthday? We don't want you or your kids to be disappointed on their special day. This is why, we promise and guarantee same-day kids birthday cake deliveries all across Gurgaon. Just choose your preferred cake design online from our gallery, customise and complete the order and mention your address. Your cake will reach your doorstep, safely packed and delivered by trusted delivery professionals.
How to order a kids birthday cake in Gurgaon?
Gurgaon Bakers makes it super easy to order a personalised kids cake online. Start by browsing our huge gallery of kids' birthday cake designs. Choose your favourite cake style and then customise it as per your little one's tastes. You can personalise the cake flavour, style and colours. Complete the order online and relax while our talented bakers craft your cake from scratch.
If you (or your kid) has any questions, feel free to get in touch with our team. If you have a specific design in mind for your child's birthday cake, give us a ring on +91 98999 88185 to discuss with our bakers and turn your child's wishes into cakey reality.