Other Desserts
Delicious Desserts in Gurgaon, Now Available for Home Delivery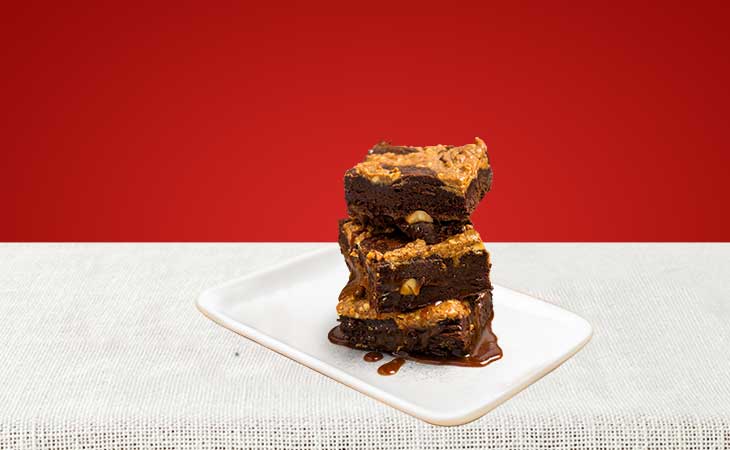 Besides our best-selling customised party cakes, we offer other delicious desserts including brownies, cupcakes, themed cupcakes, teacakes and jar cakes. Handmade from scratch using premium ingredients and tried and tested recipes our desserts are perfect for return gifts and as special treats.
We offer same-day delivery of dessert orders across Gurgaon. Complete your orders online and enjoy doorstep delivery across Gurgaon. If you're ordering for friends and family, make sure to include a "special note" while placing your order. Your tasty gift will be delivered to your loved ones with your special message.
Order the Most Amazing Desserts in Gurgaon
If you're looking for beautiful handmade desserts in Gurgaon, you've come to the right place. Besides our party cakes, we also deliver tasty desserts like cupcakes, themed cupcakes, brownies, teacakes, dessert jars anywhere in Gurgaon. Extremely popular as corporate gifts, return gifts for birthday, afternoon tea party treats, kid's party treats – our desserts are available around the year.
Some of our clients include leading business houses and offices in Gurgaon, schools, conference centres, celebrities, individuals and many more. Order online from our extensive range of cakes and desserts and have them delivered right at your door. We offer same-day delivery anywhere in Gurgaon. Place your orders online before the last delivery slot of the day to receive your tasty treats within the same day.
Minimum Order Quantities
| | |
| --- | --- |
| Brownies | 1 kg |
| Teacakes | 1 kg |
| Cake Jars | Available in sets of 2 (Mini 200ml, Large 375ml) |
| Cupcakes | Sets of 6 |
Handmade Brownies in Gurgaon – Fresh on Order – Delivered to your Door
Our signature brownies are available in 7 delicious flavours. Score some serious brownie points with your loved ones by sending them a special box of brownies in Gurgaon. Our brownie flavours include:
Chewy Brownies – If you're a lover of fudgy brownies, then you would be delighted with our chewy brownies. So chewy and so rich – this is a brownie lover's treat. It's one of our classic desserts featuring a soft, rich and chewy centre.
Choco Chip Brownies – Our Choco Chip brownies are the perfect indulgent treat – topped with delicious choco chips and a rich gooey chocolate centre.
Chocolaty Brownies – Our Chocolaty Brownies are lovingly baked with generous helpings of couverture chocolate. Rich, indulgent – it's the perfect chocolaty treat for all ages.
Classic Walnut Brownies – Our Classic Walnut brownie has a chewy centre and is finished with walnuts for a crunchy finish.
Fudgy Walnut Brownies – Fudgy + walnuts – should we say anymore? It doesn't get any better than this.
Peanut Butter Brownies – Our Peanut Butter Brownies has a chocolate base, gooey peanut filling and topped with delicious peanut butter.
Red Velvet Cream Cheese Brownies – Love red velvet cakes? Then you should try our red velvet cream cheese brownies, finished with swirls of delicious cream cheese frosting and red velvet crumb toppings.
Take a Teacake Break with Gurgaon Bakers
"One of life's simple pleasures is taking a leisurely tea break with a piping hot cup of coffee or tea and a slice of tasty cake."
We help you enjoy this time honoured tradition with our range of the best teatime cakes in Gurgaon. Our teatime cakes make for great gifts for friends and family. Send them to your friends as return gifts for a party or pass it around to clients as a corporate gift. Don't forget to order them for yourself to enjoy the deliciousness of a handmade tea cake.
Available flavours include:
| | | |
| --- | --- | --- |
| Banana Walnut Tea Cake | Carrot Walnut Tea Cake | Choco Marble Tea Cake |
| Honey Almond Tea Cake | Nutella Tea Cake | Vanilla Sponge Tea Cake |
Our teacakes can be ordered in sizes starting from 1 kg. Keep a watch on this page for new flavours.
Cute, Tasty & Creative Cupcakes in Gurgaon
"Cupcakes for every occasion and every celebration." Express your love and gratitude with a delicious handmade box of cupcakes, baked fresh on order. Our cupcakes are available in boxed sets of 6, 9 or 12.
Here at Gurgaon Bakers, we are passionate about creating and delivering cute and creative cupcakes with premium ingredients. Whether you're looking for themed cupcakes to serve along with your birthday, anniversary or wedding cakes, or just special treats to indulge in – we've got you covered. Our customised cupcakes can be personalised with a special message for your loved one.
The Fuss-free Way to get your Cake Fix – Order Cake Jars in Gurgaon
Craving cake but don't want to order a large cake? Presenting you cake jars – the easiest and hassle-free way to indulge in your favourite treats. Our cake jars are available in an array of flavours. Each jar is packed with alternating layers of sponge cake and delicious frosting. Choose whichever flavour tickles your fancy.
Easy to tuck into, delicious and oh so pretty – our cake jars make for excellent return gifts for birthdays, weddings, anniversary parties, housewarming functions, corporate galas, kids parties and more.
FAQs
How long do your brownies last?
Our brownies are best enjoyed within 7 days of receiving them. Keep them sealed in an air-tight box at room temperature and away from direct sunlight. If you're looking to store them for a longer time, pack them in air-tight boxes and freeze. Thaw at room temperature or for 30 seconds in the microwave before consumption.
What are the storage instructions for tea cakes?
Our tea cakes have a long shelf life of 7 – 10 days. Make sure to store them in an air-tight box in a cool, dry place away from direct sunlight and strong odours.
Do you offer cupcake boxes for home delivery in Gurgaon?
Yes, we offer home delivery of cupcakes, cakes, brownies, jar cakes and teacakes anywhere in Gurgaon, 7 days a week and 365 days of the year. Place your order online, specify your delivery location and enjoy same-day delivery.
What is the minimum number of cupcakes that I can order?
The minimum order you have to place is a box of six cupcakes. We also offer themed cupcakes to match your party theme.
Do I have to pre-pay for a cake order?
For all cake, cupcakes and other dessert orders we kindly request payment in advance. Due to the Covid-19 situation, our delivery drivers do not accept cash on delivery. You can pay online using our secure payment channels using credit/debit cards, internet banking account or any digital wallet.