Birthday Photo Cakes
Frame your loved one's photo in frosting. Say Happy Birthday in the sweetest and most unique way possible!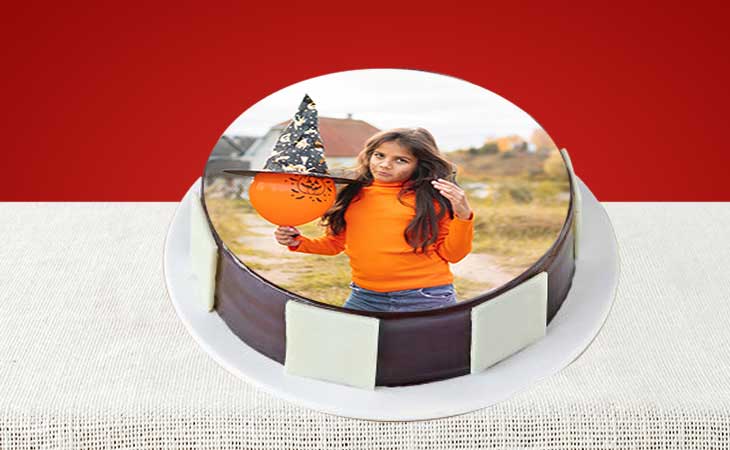 Picture Perfect Photo Birthday Cakes in Gurgaon
Customise your loved one's birthday cake with a favourite memory.
At Gurgaon Bakers, we create picture-perfect birthday cake with edible photos printed on them. Our expert cake decorators take your favourite pic (or pics) and convert it into an edible topping for your birthday cake. The edible image is then framed delicately with beautiful and tasty frosting.
We offer customised photo birthday cakes to suit all birthday parties. Whether you need a photo cake for an intimate birthday party with just a handful of guests or a large 3/4/5 tier photo cake to serve hundreds of guests, we can handle it all.
The best part – our birthday photo cakes are available for same-day delivery anywhere in Gurgaon. Order before 9:00 pm and receive your customised photo cake on the same day, right at your doorstep.
The Best Birthday Photo Cakes in Gurgaon Available for Same-day Delivery
Make it a Birthday They'll Remember Forever.
Do you need a unique birthday cake in Gurgaon? Birthday photo cakes from Gurgaon Bakers are the ultimate customised and personalised birthday cakes in Gurgaon. Impress your loved ones – friends and family – and make them feel special on their birthday with our personalised birthday photo cakes.
You can add any image of your choice: your friend stuffing himself at the hotel buffet, your sister dolled up for a celebration at college, or mom hugging sweet tears as she comes to visit you at your workplace. You can relive any special memory by getting it printed on your cake.
Create Extra Special Birthday Traditions with Customised Photo Birthday Cakes
Cutting the cake is indeed the highlight of any birthday party. We all cherish the memories when our friends sang "Happy Birthday" while we blew the candles on the cake. No matter how old you grow, birthday memories always occupy a special place in our hearts.
At Gurgaon Bakers, we strive to create wonderful birthday memories for our customers with our spectacular birthday cakes. Our birthday photo cakes are a feast for the eyes and taste buds. They are not only a visual treat but also taste absolutely delicious. We create cakes that are never forgotten. So, order your special birthday photo cake online and create memorable birthday traditions that last forever.
Why choose Gurgaon Bakers to order birthday photo cakes?
#1: Soft, Moist, and Melt-in-your-Mouth Sponge
The cake base is made with premium ingredients and tried and tested recipes. Our expert bakers create buttery, decadent sponge cakes that will leave you and your guests craving for more.
#2: Quality Edible Photo Prints
We use the latest printing technology and high-quality edible inks to ensure that the photos printed are high-quality. No pixelated images or worn-out colours. Your pictures on the cake look as real as possible.
#3: Handmade and 100% Fresh
We bake on all days – Monday to Sunday. We don't stock any cake. And every cake that leaves our kitchens is baked fresh on order. So, you're guaranteed maximum freshness with maximum flavour and aroma.
#4: Same-day Delivery
Looking for last-minute birthday photo cakes? No worries! Our kitchens are open 24 x 7, 365 days of the year. We offer same-day delivery for most of our designs. Place your photo cake order before the last delivery slot of the day, and receive the cake on the same day.
Edible Birthday Photo Cake FAQs
What is a birthday photo cake? Is it safe to eat?
Photo cakes contain a printed image of your favourite picture. It's just like regular printing. Instead of printing on paper with chemical inks, edible photos are printed on rice paper or wafer paper with food colours. So, it's 100% safe to eat for all: kids to adults, with no side-effects.
Do you offer home delivery of birthday photo cakes in Gurgaon?
Yes. Our delivery services cover the entire city. Just mention the recipient's address while checking out, and our delivery agents will bring your cake right to your doorstep.
I'm unable to find my location in your cake delivery list in Gurgaon?
No worries. Just give us a ring on +91 98999 88185, and our team can let you know whether we'll be able to deliver at your location. Alternatively, you can also arrange to pick up the cake at a specific point convenient to you.
What are the dimensions for the photo?
You can send the photos to be printed on the cake in any dimension, and we can tailor it to suit the design of your cake. Just make sure that the picture is of high-quality as it impacts the final image on the cake.
What are the flavours available in birthday photo cakes?
You can customise your cake in any flavour: vanilla, strawberry, chocolate, pineapple, black forest, butterscotch, red velvet, and white forest. If you need any other flavours not on this list, just let us know by dropping in a message or giving us a ring at +91 98999 88185, and we'll see whether we can get it done for you.