For Fitness freaks
Healthy and Delicious Cakes in Gurgaon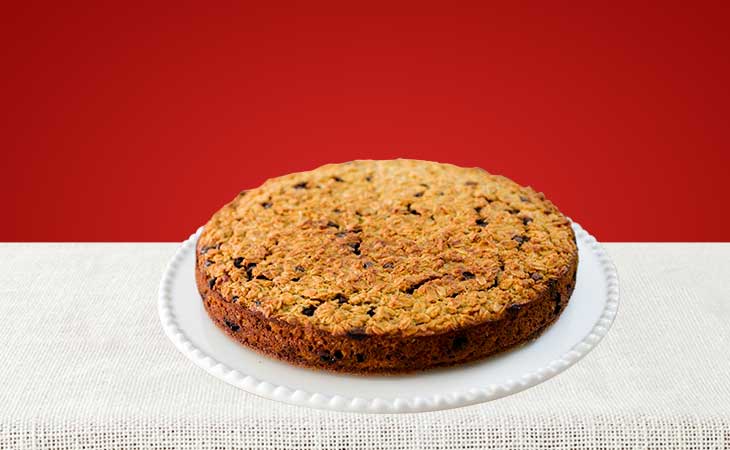 We can hear you asking, is that even possible? How can cake be healthy and delicious? Isn't that fictitious?
Nope! It's the real deal – At Gurgaon Bakers, our creative and expert bakers have created tasty creations that you can enjoy without being worried about the calories. Yep! It's sweet, delicious, and absolutely healthy. The only thing that you will gain from indulging in these tasty and healthy cakes is pure satisfaction. No more worrying about calories or messing up your diets! Order the most nutritious cakes in Gurgaon and indulge to your heart's content.
Why have we included Healthy Cakes in our line-up?
Gurgaon Bakers bring you an alternative to traditional cakes. We want to give you a choice of selection. You can decide to indulge in our regular cakes made with premium ingredients. But, if you have special dietary needs or restrictions, we don't want you to feel left out.
We want you to be a part of the celebrations and indulge in healthy cakes in Gurgaon without having to worry about weight gain or calorie counting. Our healthy cake recipes are created from scratch by our team of professional bakers. We have made the recipes unique, just for you. If you feel that we need to include other options in our healthy cakes line-up, just let us know. We'll try to have them included on our next menu. Also, we are always looking for feedback. So, just drop in a mail and let us know your thoughts to refine our creations.
Our healthy cakes are prepared with loads of love and meticulous attention. We combine our experiences in the kitchen as chefs and nutritionists to bring you the best tasty and healthy cakes. We also love to experiment, so keep watching this page for new and exciting recipes from our kitchens.
Feel free to engage in a conversation with our team. We believe the next best thing to baking is engaging with our delighted customers.
Healthy Cakes that Taste as Good as Regular Cakes
Delicious! So moist! Love the texture! I can't believe it's healthy! Something healthy shouldn't be this freaking delicious! – These are some of the words that our customers use when they taste our healthy cakes.
So, why are our healthy cakes so popular? That's because we've swapped all the ingredients that you wish to avoid and replaced them with healthy and natural ingredients, which are suitable for your diet and body.
And, since we deliver our healthy cakes anywhere in Gurgaon, you can have them whenever you desire! Yep, we offer same-day delivery of healthy cakes across Gurgaon. So, whenever you get hit by a sweet craving, you can enjoy our healthy and wholesome treats.
Gurgaon Bakers – The No.1 Healthy Cakes Bakery in Gurgaon
Gurgaon Bakers is a professional team of bakers based in Gurgaon. Our passion is to deliver tasty and delicious cakes for all occasions. We believe that good food should look not only good but also taste heavenly.
Wondering why we have an exclusive healthy cakes section? A large number of people today avoid eating cakes and other sweet treats because of their dietary restrictions. We believe that cake is a must for all celebrations – big and small. Just because you're following a specific diet or have other dietary restrictions, that doesn't mean you should feel left out with no choices when you go to a party.
This is why we have introduced healthy and tasty cakes that fit into a healthy lifestyle. All the cakes in our healthy options category are free-from added sugar. They are made without dairy, egg, soy, or nuts. Hence, they are allergy-friendly. We also have specific gluten-free options, sugar-free and diabetic-friendly cakes, paleo cakes, keto cakes, low GI cakes, and much more.
Now, all members of the family – irrespective of their age and dietary restrictions can now enjoy the best party cakes.
Expert bakers believe that creating the perfect cake without dairy and eggs is one of the biggest challenges for any baker. Eggs add more than flavour. They lend the structure to the cake and are used to bind the ingredients together. At Gurgaon Bakers, we've mastered the art of creating perfectly fluffy and moist sponge cakes without using eggs.
We love our cakes, and we love our customers even more. This is why our healthy range of cakes does not have added preservatives, additives, artificial egg replacers, and other harmful synthetic ingredients. Our cakes are baked in a happy environment by happy people. So, we're confident that eating our healthy cakes will make you one very happy customer!
FAQs on Healthy Cakes in Gurgaon
Can I know the nutritional information and calories of your healthy cakes?
The healthy cakes from Gurgaon Bakers are 100% natural and made with organic ingredients. They are chock-full of proteins, vitamins, minerals, and healthy fats. Right now, we don't have a nutritional table for our healthy cakes – but we're working on providing one. So stay tuned!
Can I place a wholesale order of healthy cakes?
Yes, you can. Just drop us an email at or give us a ring at and we'll provide you detailed price quotations and availability.
Do you deliver healthy cakes in Gurgaon?
Yes, we do. We offer doorstep delivery of all our cakes anywhere in Gurgaon. We also offer same-day delivery and special surprise midnight cake deliveries in Gurgaon.
Should I refrigerate healthy cakes?
Yes, we recommend keeping the cake refrigerated right until the moment of serving. Take them out of the fridge and leave at room temperature for 15 minutes before consumption.
How long can I keep them?
Ideally, our cakes last up to 3 – 5 days in the fridge. However, we recommend that you consume them within 3 days for the best taste. Our cakes are freezer-friendly. If needed, you can freeze them for longer shelf life. Make sure that you thaw them to room temperature before consumption.
Are healthy cakes safe for diabetics?
We create cakes that everyone cake enjoy. Our healthy cake range does not have sugar or other artificial sweeteners. But we include natural sweeteners like jaggery, cane sugar, dates, and palm sugar. Since they use natural ingredients, they are safe for people who want to control their sugar levels. However, make sure to follow the guidance of your doctor.
Why your healthy cakes are rated the best in Gurgaon?
Our healthy cakes are prepared after tons of research. Each creation is crafted by a team of expert bakers and professional nutritionists. We ensure that each cake is not just healthy but also tastes delicious. Hence, we are proud to state that they are consistently ranked the best healthy cakes in Gurgaon.