Coffee Cakes
Order Delicious Coffee Cakes in Gurgaon
Calling all cappuccino lovers and latte heads! Refined and elegant with a subtle bitterness our coffee cakes are perfect for the coffee connoisseurs.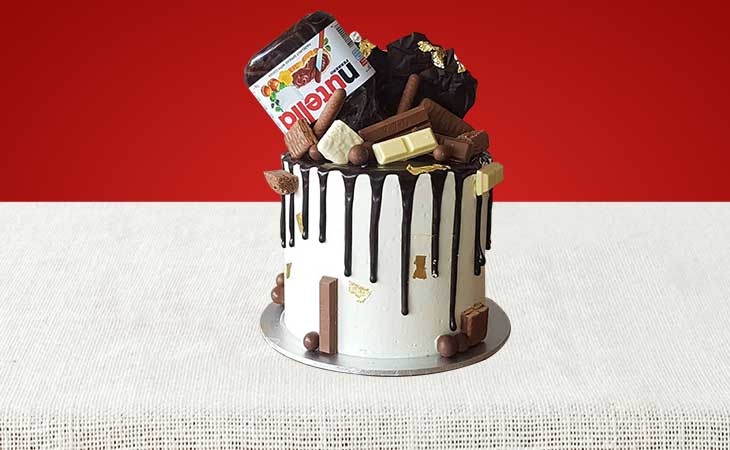 Coffee cakes are perfect when you're looking for a unique party cake flavour. The subtle bitterness of our premium mocha beans pairs wonderfully well with the creamy deliciousness of the coffee sponge and the sweetness of the coffee-flavoured chocolate frosting. Perfect for grown-up celebrations like anniversaries, weddings, birthdays, Mother's Day, Father's Day, and much more, our coffee cake is sure to enthral all coffee lovers.
Do you know the key to a delicious coffee cake? Just like a steaming cup of java, it all starts with the coffee bean! At Gurgaon Bakers, we use premium coffee beans to extract the sweet, silky, and slightly bitter decoction. The brewed coffee is then used in our cake batter to make the perfect coffee flavoured cake. If you're a coffee connoisseur, then you're sure to fall in love with our delicious range of coffee cakes in Gurgaon. Order the best coffee birthday cakes online and enjoy free doorstep delivery anywhere in Gurgaon.
When to order coffee cakes?
Coffee cakes are one of the most popular cakes in history and have been around for years. Generally, a coffee cake is a cake that is flavoured with coffee decoction or made to be eaten along with a steaming cup of coffee. Contrary to the name, coffee cakes are eaten as a popular dessert along with one's afternoon tea. The popular varieties of coffee cakes include: Aromatic Irish coffee cake, coffee cake topped with walnuts, coffee cream cheese frosting, Coffee Nutella Cake, choco fusion coffee cake and more.
Generally, coffee cakes are preferred for adult parties since they have a more refined and less sugary taste when compared to regular birthday cakes. The wonderful creaminess of the frosting, the moist sponge and the subtle bitterness of the coffee decoction make it a great choice for grown-up only birthday parties.
Order a coffee flavoured cake for your next adult gathering, be it an afternoon tea, birthday party, anniversary celebration, corporate get-together and impress your guests with a rich elegant dessert. We're sure that a Gurgaon Bakers coffee birthday cake will be the star at your birthday dessert table, especially for the coffee lovers.
Hit the Sweet Spot with the Best Coffee Cakes in Gurgaon
If you're looking the best coffee cakes in Gurgaon, you've come to the right place. Made with premium coffee beans and other rich ingredients, our coffee cakes are sure to hit all the right notes. Go for our Coffee Mist cake if you want a rich and creamy cake that isn't too sweet but delicious. Topped with a decadent Nutella drip, our Coffee Nutella cake is perfect for both chocoholics and coffee lovers. Or if you like a bit of a crunch in your cake, then order the Nutty coffee cake topped with chopped walnuts and coffee Swiss Meringue buttercream: a match made in heaven. Decorated with crunchy Kit-Kats, Nutella, Ferrero Rocher, our Choco Fusion coffee cake and Chocolicious coffee cake will hit you with a sugar coma, in the best possible way.
Coffee Cakes for Home Delivery in Gurgaon
Worried how to pick up your favourite coffee cake in Gurgaon? Fret no more! At Gurgaon Bakers, we want to make your cake delivery process as seamless and stress-free as possible. We offer home delivery of all our cakes anywhere in Gurgaon. Just place your orders online on our website and let our team handle the rest.
We pack your favourite coffee birthday cakes in sturdy cardboard boxes and hand-deliver them anywhere in Gurgaon. So, you don't have to worry about navigating traffic or anything else. The cherry on top (or should we say, the crunchy nuts on top) we offer same-day delivery for all our coffee cakes. So what are waiting for? Order the best coffee flavoured cakes and satisfy your java cravings! If you have any queries or require help with placing your order, just ping us on Whatsapp and our team will help you as quickly as possible.