Wedding Cakes
Luxury Wedding Cakes in Gurgaon, Delivered Throughout The City.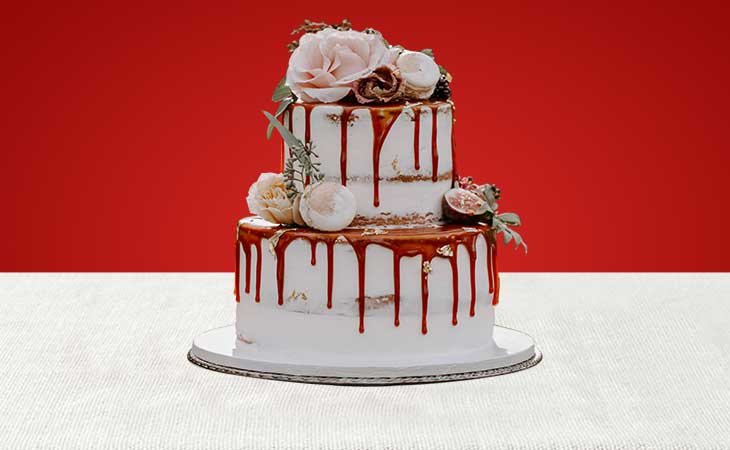 We know that the wedding cake is more than a dessert. It's the showstopper on your big day.
Finding your dream wedding cake should be a breeze. Gurgaon Bakers, expert and creative wedding cake bakers in Gurgaon, are here to make your big day magical and stress-free. You can choose your preferred cake style and flavours right on our website. Once you have completed your wedding cake orders, our bakers' team sets up your dream cake at the venue on the big-day perfectly.
Our wedding cakes are more than tasty desserts. They are edible pieces of perfection, crafted painstakingly, and meticulously to create the "WoW" factor on your wedding. Celebrate the next big adventure in your life in the sweetest possible way. Order the best wedding cake in Gurgaon and create long-lasting tasty and sweet memories.
FROM TRADITIONAL WEDDING CAKES IN GURGAON TO CONTEMPORARY STYLES
"A Wedding cake is the grandest of all party cakes." It's the ultimate showpiece, designed to impress your guests. A wedding cake from Gurgaon Bakers is not just about the appearance – we ensure that every element on the cake is picture-perfect for your big day. Our wedding cakes are crafted with the finest ingredients and the best recipes. We aim to create the very best wedding cake designs to create a magical effect on your big day.
When you order a wedding cake from Gurgaon Bakers, we ensure that we're there every step of the way. We handle the setup of the cake at the venue. So, you don't have to worry about looking for the right table or arranging it! Just relax and enjoy your big day while Gurgaon Bakers delivers an unforgettable cake that will impress and delight your guests.
Our wedding cake designs are constantly evolving – we incorporate the latest wedding cake trends to ensure that you get nothing but the best on your big day. We also offer customisations to suit your wedding theme. Get in touch with our team for wedding cake prices and personalisation.
WHAT IS THE COST OF WEDDING CAKES IN GURGAON?
One of the biggest challenges facing brides and grooms is finding wedding cakes at budget-friendly prices. Gurgaon Bakers makes it easy for brides and grooms to find out the exact cost of a cake before making an order. To check the price of your favourite design, all you have to do is select your preferred design and choose – the size, egg/eggless, and flavour to get the exact cost of the cake.
All our wedding cakes can be ordered online right on our website. Our wedding cakes are available in sizes ranging from 4 kg to 15 kg. The flavour choices are – vanilla, chocolate, pineapple, butterscotch, and black forest.
Just click on "Add to Cart" to complete your wedding cake order.
IRRESISTIBLE WEDDING CAKE DESIGNS IN GURGAON
At Gurgaon Bakers, we have a wide range of wedding cake designs to suit all couples. Our 2/3 tier wedding cakes are the classic traditional wedding cake designs. You can opt to have all the tiers in edible form or choose mock-tiers for the lower levels to keep costs down.
Besides traditional wedding cakes, our other popular designs are semi-naked cakes. These cakes are not piled high with layers of icing. Instead, the frosting is kept to a minimum, so the cake base's actual flavor shines through. Styled with fresh fruits or fresh flowers, wedding cakes with flowers cascading taste good and look regal and elegant.
Finally, we've got unique and contemporary wedding cakes for couples who want something different on their big day. Made with layers of rich chocolate ganache, these cakes are perfect for couples who love to do things their own way.
TASTIEST WEDDING CAKE FLAVOURS IN GURGAON
At Gurgaon Bakers, couples can choose from five different flavours. Our classic vanilla is perfect for those who want a flavour that will appeal to all guests. If you're looking for something adventurous, you can opt for crunchy butterscotch or tangy pineapple. Besides these flavours, we've also got all-time favourites like chocolate and black forest. If you're having difficulties choosing one flavour, all you've got to do is get in touch with our expert bakers. We can customise each layer of your cake with a different flavour so that your guests can choose whichever flavour appeals to their taste buds.
WEDDING CAKE – FAQ's
When should I order my wedding cake?
At Gurgaon Bakers, we believe that it's never too early to place orders for your wedding cake. Our bakers sometimes book out in advance, so we recommend ordering your wedding cake as soon as the date and the venue are fixed. However, if you have forgotten to place your orders in advance or require last-minute deliveries, we can handle it. Just mention your preferred time-slot, and our bakers will get the cake to your doorstep, right on time.
Do you offer wedding cake home delivery in Gurgaon?
Yes. We can deliver and set up your cake at home or the venue. Just let us know your preferred delivery time-slot and our delivery personnel will handle the rest.
How do I place an order for a wedding cake in Gurgaon?
Gurgaon Bakers makes it super easy to place your wedding cake orders. All you have to do is choose your preferred style, complete the customisations, and click on "Add to Cart." Complete the payment online using your debit/credit card, internet banking account. That's it! Your cake is available for delivery. Alternatively, you can also give us a call on to complete your wedding cake orders.
Where do you deliver wedding cakes in Gurgaon?
We deliver our cakes all over Gurgaon, safely and securely using our trusted delivery personnel. The cakes are packed in secure boxes so that they don't get damaged during transit. The outer box is made of strong cardboard for extra protection – so that you don't have to worry about the delivery.
Do you offer cupcakes along with wedding cakes?
Yes, we do! Just let us know the number of cupcakes that you need – flavours and themes, and we'll deliver them along with your wedding cake.