Pinata Cakes
Piñata Cakes – Order the Smashing New Cake Taking over Social Media
There is a new cake trend that is taking social media by storm. Yes, it's the piñata cake. If 2020 was all about Dalgona coffee and banana bread, then 2021 is about smashable piñata cakes. Also, known as "smash cake" "hammer cake" piñata cakes are the biggest trend in the cake world right now.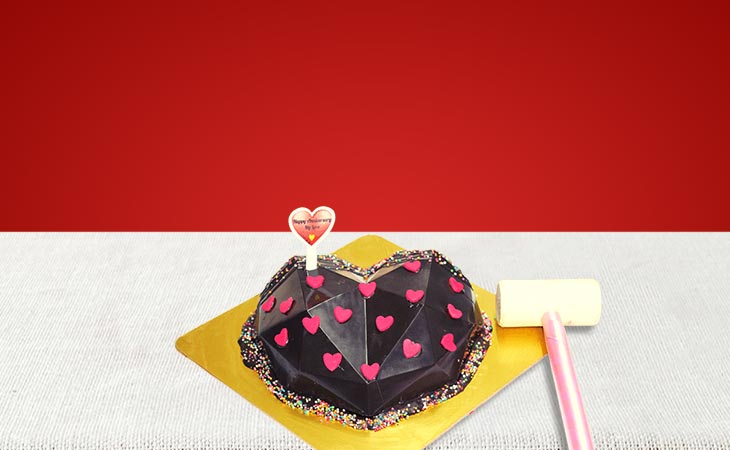 The idea behind piñata cakes is to make the cake cutting ceremony exciting and surprising. Instead of blowing candles and cutting the cake with a plastic knife, with a piñata cake you get to smash it with a wooden hammer.
It adds a "wow" element to the process as everyone is excited to see what is inside the cake.
Smash the outer chocolate shell to reveal the treats hidden inside – chocolates, candies, handwritten love notes or even another real cake – the choice is all yours.
The Trending Party Cake of this Season – Smashable Pinata Cakes in Gurgaon
If you're looking for a cake that will be the talk of the town, you cannot go wrong with our piñata cakes. It is THE PARTY cake to order this season. Perfect for birthday parties, romantic anniversary celebrations, Valentine's Day and any other special occasion. All your guests – from tiny tots to adults – will love this one.
Get your piñata cake customised as per your preferences. Add candies, chocolates, or cupcakes inside, include hand-written notes and take it to the next level.
Order Viral Pinata Cakes Online in Gurgaon
A birthday party is incomplete without a stunning designer cake. The cake cutting is an integral part of all celebrations – be it a birthday party, an anniversary dinner, wedding engagement, Valentine's Day, Mother's Day, Father's Day or any other milestone. With Instagram, food bloggers and food influencers, the cake scene in India is buzzing with new viral trends and creative cake designs.
Last year, we saw several viral cake designs like the pull-me-money roll cake, photo cakes, watercolour effect cakes and more. The recent cake trend is the piñata cake. Also known as smash cake it's the biggest trend that's going viral right now.
The word "piñata" comes from Spanish and means "pot." Piñatas are a popular trend in kid's birthday parties. A cardboard box decorated to look like a colourful donkey is hanged on a tree branch. The box is filled with candies, chocolates and other goodies. Kids take turns smashing the piñata with a wooden stick blindfolded.
This concept is now extended to piñata cakes. The outer shell of piñata cakes are made with edible chocolate. The birthday boy or girl smashes the shell with a toy hammer to reveal the surprises hidden inside.
Order Customised Smash Cakes in Gurgaon
At Gurgaon Bakers, we love to keep our cake designs fresh and trendy. We update our menu to include the latest culinary trends sweeping the world of cakes. The latest entrant on our collection of the best birthday cakes in Gurgaon is the trending piñata cakes.
Made with a heart-shaped or a sphere mould, the piñata cake has an exterior chocolate shell that hides the sweet treats inside. At Gurgaon Bakers, we offer customised piñata cakes to suit your occasion. Fill it up with chocolate candies and treats for a little girl or boy. Hide hand-written love notes to your better half – the choice is all yours. Just let us know the customisations needed while placing the order and we'll handle it for you.