Corporate Cakes
Make Your Brand Stand Out with Customised Corporate Cakes in Gurgaon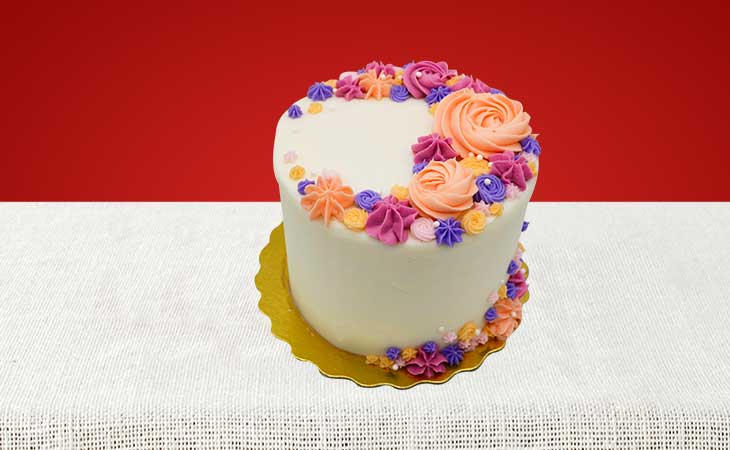 Make a Statement with Customised Corporate Cakes from Gurgaon Bakers
A customised corporate cake is the perfect way to make a statement at your business events. Whether you're hosting a product launch, brand promotion, corporate gala dinner, or any other business-related event, our branded cakes are sure to impress your clients and guests. At Gurgaon Bakers, we can create customised corporate cakes for events of all sizes and budgets. Make a stylish brand statement with a customised cake from Gurgaon Bakers, the #1 cake shop in Gurgaon.
Corporate Cakes for Events of all Sizes
Make a tasty statement at your next corporate event with handcrafted cakes from Gurgaon Bakers. At Gurgaon Bakers, we've had the pleasure of creating delicious cakes for some of the most well-loved brands and companies in the city.
Our biggest strength is our expert cake bakers and decorators. We can create corporate cakes for events of all sizes. Be it a small board meeting or a large corporate gala. Whether you're looking for corporate cakes for 10 people or 100 people, our team can take care of it all.
Why choose Corporate Cakes in Gurgaon?
Corporate cakes and cupcakes are an increasingly popular way to celebrate key milestones at an office. Whether you want to thank a retiring employee for their years of service or welcome a new member to the team, marking the occasion with a themed cake is a great way to boost employee morale. Our corporate cakes can be customised to replicate your logo, brand theme, or any other idea associated with your business.
Our cakes and cupcakes don't have to be ordered only for special events. You can order tea cakes or a bunch of cupcakes anytime in the office to give your employees a tasty treat and to boost their spirits.
Make a Brand Statement with Corporate Cakes in Gurgaon
Cakes are a tasty way to promote a new product or service. When you have your company's logo, name, or theme on the cake, you can be sure that all your guests will see it. It increases the visibility of your brand and company among all the event attendees.
Our cakes are a visual treat to the eyes and a tasty treat to your taste buds. We can guarantee you that all your guests will want to have a piece of our delicious treats. As a result, your product, brand or company gets maximum visibility at the event. We can guarantee you that serving a customised corporate cake at your event in Gurgaon is a brilliant marketing strategy to promote your brand or product.
Show your Clients that you Care, by gifting them Customised Corporate Desserts
"The quickest way to a client's heart is through their stomach."
Have you ever considered sending your clients' customised cakes and cupcakes on special occasions? Our customise cupcake, brownie, and tea cakes hampers are perfect for corporate gifting on Diwali, Christmas, New Year, and other special events. We're sure that your clients will love receiving a tasty treat on their desk. Furthermore, customised cakes and cupcakes are a great way to spread the word about your business and make it easy for clients to know the products and services you're promoting.
If your clients have any special dietary requirements like diabetic-friendly cakes, gluten-free cakes, vegan cakes, worry not, we can customize your orders to suit your clients' specific nutritional needs. We're sure you'll win extra brownie points with your clients for your thoughtfulness.
Corporate Cakes FAQs
What are the sizes of your corporate cakes in Gurgaon? How many people will your corporate cakes suit?
We can make the cake as big or as small as you wish! At Gurgaon Bakers, our team of experienced bakers loves a creative challenge. Whether you need a large cake to feed 200 guests or a small handcrafted cake to serve 5 – 8 guests, we can handle it all. Just get in touch with our team, let us know your requirements, and we'll create a customised order to suit your corporate needs.
Why should I place my order for corporate cakes with Gurgaon Bakers?
As they say, 'the proof is in the pudding.' Or rather, the proof lies in our cakes. Made with premium ingredients and freshly baked on order, we guarantee you 100% tasty cakes. Our cake decorators can customise your cake exactly as per your needs. While corporate cakes aren't new, you can be assured that our creations are! Make your brand stand out with a trendy, eye-catchy, and super tasty cake.
Can you add the logo of our company on the cake?
Of course! Whether you want us to craft your logo in icing or print it on edible paper, we can brand your cakes and cupcakes with your company's logo, theme, and name.
How do I order a corporate cake in Gurgaon?
If you have a corporate event coming up and would like to mark the occasion with a signature corporate cake from Gurgaon Bakers, just give us a ring at +91 98999 88185. Let us know the event size, theme, and other requirements, and we'll handle the rest. Alternatively, you can also order directly from our site. Customise the size, flavour, and egg/eggless and include a special message to complete the order.
Can you deliver the corporate cake to our event in Gurgaon?
Yes, of course. We offer cake deliveries anywhere in Gurgaon. Whether you want us to deliver the cake to your office or event venue, let us know, and our delivery agents will handle the rest. We pack the cake in sturdy cardboard boxes so that it arrives in perfect condition at your doorstep.