'Spring is in the air, and that means only one thing for Indians – it's time to rejoice with Holi! The Festival of colours, fun and frolic. Holi is one of those Indian festivals that transcends all boundaries. From the North to the South, people of all religions and ages come together to embrace the joy and beauty of the blooming spring season.
Holi parties are incomplete without two things. One, of course, is the array of bright colours. Two, the yummy desserts and sweets. From cool thandai to sizzling malpuas, Holi is a celebration of sweets as much as it is a celebration of colour.
This Holi season, add more colour and flavour to your parties with our range of custom designed Holi cakes. If you're wondering, what's the connection between cakes and Holi, let's assure you that it isn't a marketing gimmick on our part to sell our cakes ?.
First, everyone loves cake, and we believe that "Any party without cake is nothing but a boring meeting." So, this Holi, Gurgaon Bakers adds more flavour and colour to your parties with our range of the best colourful cakes. To place your orders, ping us on Whatsapp at +91 989 9988 185. Specify your design, flavour and venue. Our team will deliver the cake right at your doorstep (anywhere in Gurgaon) at no extra cost.
So, are you ready? Let's check out our range of special Holi cakes.
Every Colour on the Rainbow
What better way to demonstrate the spirit of Holi than this beautiful rainbow cake? The cake is layered with seven different colours inside as well as outside. The bright colours will make it a showstopper at your party.
The frosting can be designed either with buttercream or fondant, as per your requirements. We can also add fondant accents like colourful pichkaris, water guns or keep it simple – the choice is all yours.
If you're looking for an elegant and sophisticated cake, we suggest that you opt for a pastel rainbow cake to tone down the colours. Alternatively, you can opt for a white outside for a surprise rainbow inside cake.
Whichever option you choose, we can guarantee that this cake will be the centrepiece at your Holi party.
In a field of Horses, let our Unicorn Cake Stand Out
This cake is perfect for corporate Holi parties and other adults-only gatherings. Extra creamy and delightful, this one denotes the Holi spirit without going over the top. The unicorn is finished with silver luster and colourful strands of unicorn hair. Also, the horn on top of the unicorn head is finished with edible gold glitter. This cake is perfect for those who love all things dainty and sweet.
Dippin Colourful Polka Dot Cake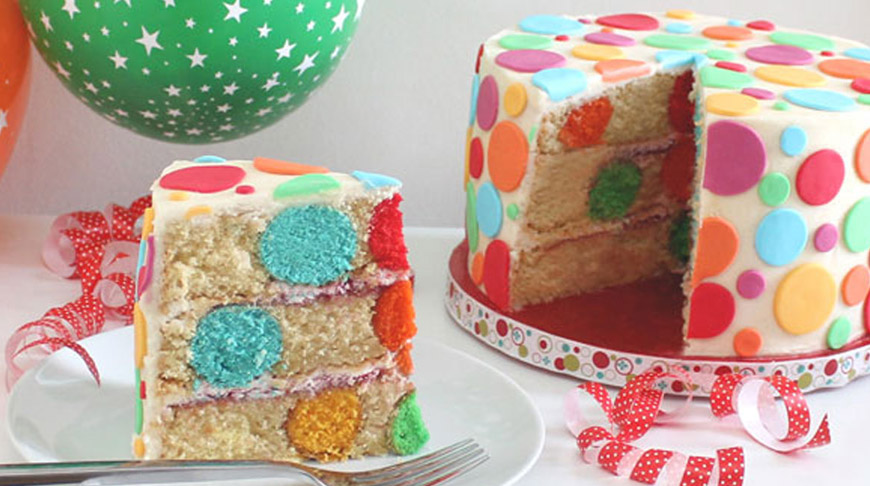 Are you hosting a Holi party that is loud, noisy and infectiously festive? Then, we've got the perfect cake for you. It's our surprise inside polka dot cake. The cake is vanilla, but don't let the simple flavour fool you. When you cut it, it reveals the hidden colourful polka dots inside. From kids to young adults, everyone will go gaga over this chic and delicious cake.
This mouth-watering cake is the best way to treat your friends and family this festive season.
Walk down memory lane, with our Gems Cake
Are you a 90s kid? Then, this one is just perfect for you. It's topped with colourful gems – the favourite candy of all children during the glorious 90s. Not only Gems, but it also has chocolatey kit-kat wafers all around it.
This cake is perfect for the young and the young at heart.
So, what are you waiting for? Get in touch with our team and place your orders for customized Holi cakes. Make sure to place your orders well in time, to avoid the last-minute rush. The best part – we offer free delivery all over Gurgaon. So, no having to worry about arranging transportation for the cake.
Place your orders on +91 989 9988 185 and enjoy a sweet, delicious and colourful Holi.
Wishing you a Happy Holi!