If you've been to a kid's birthday party recently or you follow bakers on social media, then we're sure that you would have come across a photo cake. Photo cakes are one of the best-selling cakes right now. It has the image of the birthday girl, boy, or the guest of honour is printed on top of the cake. Yes, the image is printed digitally. Thanks to the wonders of modern baking technology, it's now possible to replicate your favourite photo or memory on your cake.
Have you ever wondered how the photos are put on top of the cake? What type of ink is used for the picture? Is it edible? Is it safe to eat a photo cake? We answer all your queries in this post. Let's get started exploring the magical world of photo cakes.
How is a photo cake made?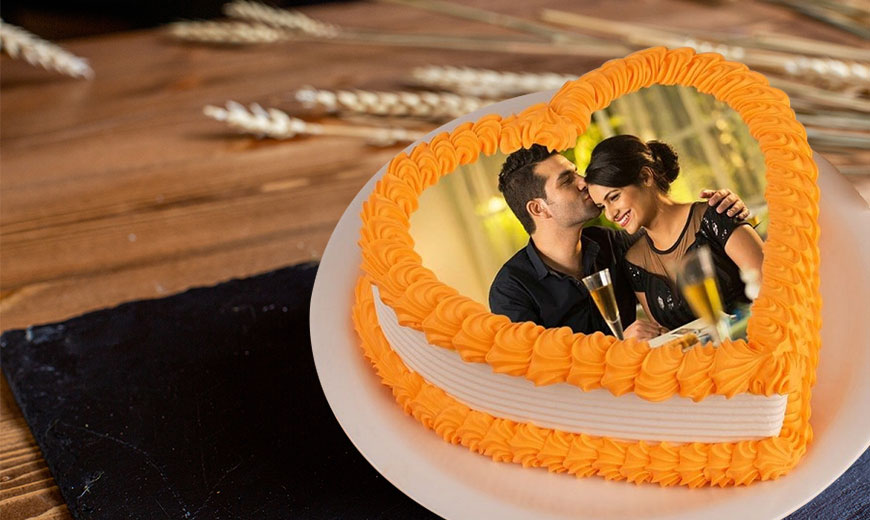 Well, the process is actually quite simple. We'll walk you through the steps our bakers do here at Gurgaon Bakers.
The customer shares their favourite photograph with our team while placing the order for a photo cake in Gurgaon.
We then proceed to make the cake as usual. Once the cake is made in the customer's preferred flavours, we do not decorate it in the usual way.
We scan the image shared by the customer. Once the image is scanned, it's printed on a printer using special edible ink. Instead of paper, the image is printed on edible "icing paper" or "rice paper" sheets. These special sheets are 100% edible, non-toxic, and safe to eat. The paper is made from a mixture of cornflour, potatoes, and rice. The edible ink used in the printer is made from food colouring. The same food colours that we use to decorate our cakes. 
Once the photograph is printed on special edible paper, we place the printed image on top of the cake and decorate it with icing to give it that perfect finishing touch. We add beautiful borders, flowers, and other embellishments in frosting. The final product looks like the image was printed right on the cake itself.
That's it. Voila, you have a pretty and customised photo cake to add a magical touch to your celebrations.
Now, let's answer your other queries on photo cakes.
Is the Edible Paper on photo cakes safe to eat?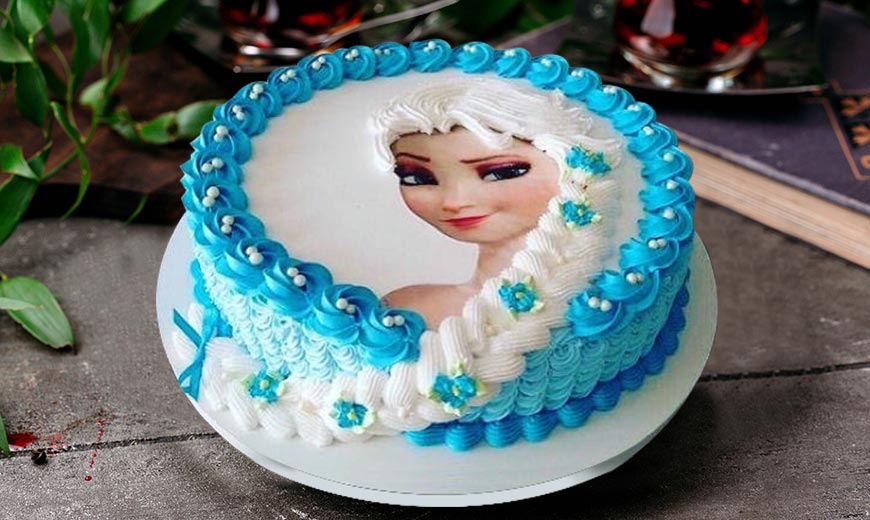 Absolutely, yes! The edible paper is non-toxic and 100% safe to eat. Everyone from the tiny tots to grandparents can eat it safely without any worries.
The edible paper can be made of rice paper or frosting sheets. Both these are made with safe ingredients, and you can eat them without having any adverse effect on your digestive system.
How does the edible paper on a photo cake taste like?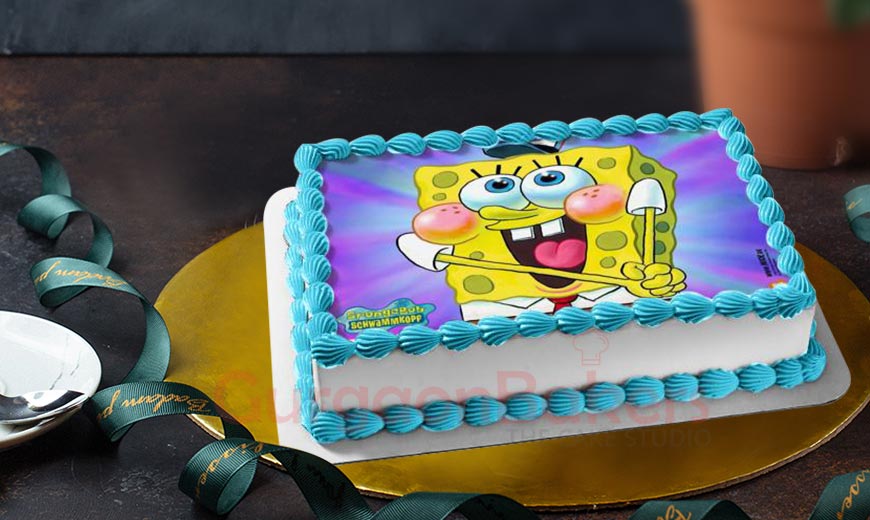 The edible paper made from rice wafers or frosting sheet doesn't have any flavour or texture. So, you won't get any weird tastes while eating it. Instead, you will enjoy the texture of the cake and the sweetness of the frosting as usual.
What are the ingredients used in photo cakes?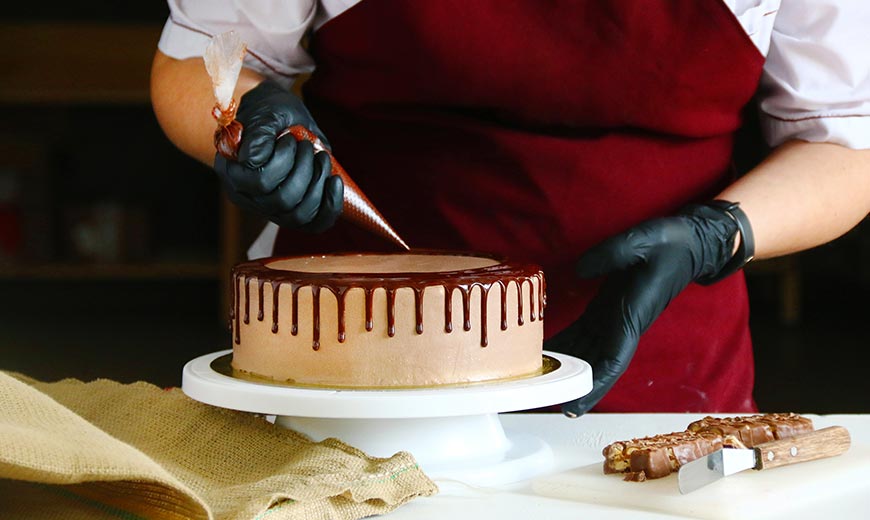 The wafer paper is generally made from rice/wheat flour, potato starch, and oil. The edible ink is made from standard food colours. The ingredients used to make the cake base and frosting are similar to other regular cakes: flour, butter, sugar, essence, eggs, milk, and other flavourings, depending on the cake style.
Add Special Memories to a Loved One's Birthday with a Customised Photo Cake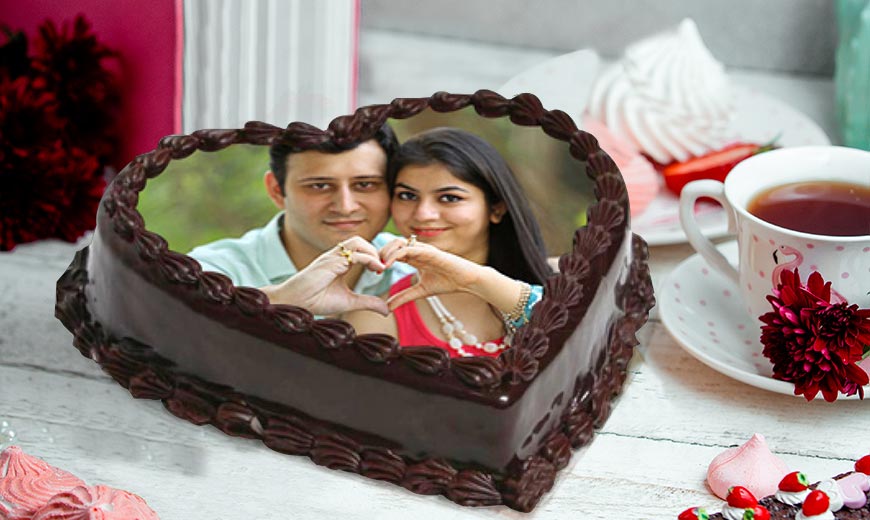 Is it time to sing Happy Birthday to a loved one? The most essential part of any birthday celebration is, of course: the cake! Which cake does your loved one like the best? Classic vanilla? Sweet strawberry? Indulgent chocolate? Tangy pineapple? Crunchy butterscotch? Perhaps exotic flavours like red velvet, black forest, or white forest?
Birthdays are the perfect time to let a loved one know how much he/she means to you. Birthday cakes are available in a variety of designs. Some cakes have a thoughtful handwritten message piped on top. While others have the favourite cartoon characters or superheroes of the birthday boy or girl.
This year, surprise your loved one with a delightful photo cake. The photograph on top of a photo cake looks just like a photo that you click with your smartphone or DSLR. The only difference is that the image on top of your cake can be eaten. Yes, it's edible and 100% safe.
Nothing is more impressive than personalising a heartfelt gift for a loved one. It's not just about the money you spent on the present. But, the thought behind it that counts. This year, personalise a photo cake for your loved ones and delight them on their special day.
At Gurgaon Bakers, we offer photo cakes for all occasions: birthdays, engagements, weddings, wedding anniversaries, Mother's Day, Father's Day, Friendship Day, Valentine's Day, Women's Day, Diwali, Christmas, New Year, and much more. You can get your favourite memory printed on top of the cake. Our photo cakes are available in various flavors and sizes, starting from just Rs. 829. Order photo cakes online in Gurgaon and get them delivered right at your doorstep anywhere in Gurgaon.
So, what are you waiting for? Go ahead, order the best photo cakes in Gurgaon and create special and delicious memories with your friends and family.